Bio Degradable Waste Management
Organic Waste Converter (OWC) Technology for U.L.B.s (Urban Local Bodies) and A.P.M.C.s (Agriculture Produce Market Committee)
Large Scale OWC Plants with Multi-Curing System
The Large scale OWC Plants with Multi-curing system use OWC machine with Conveyor systems & water curing systems for converting organic waste to compost in 10 days. The waste handling capacity ranges from 1Ton to 5Tons.
Large Scale OWC Plants with Windrows
Large Scale OWC Plant with windrows use windrows instead of water-curing crates. These plants can handle wastes up to 5Tons.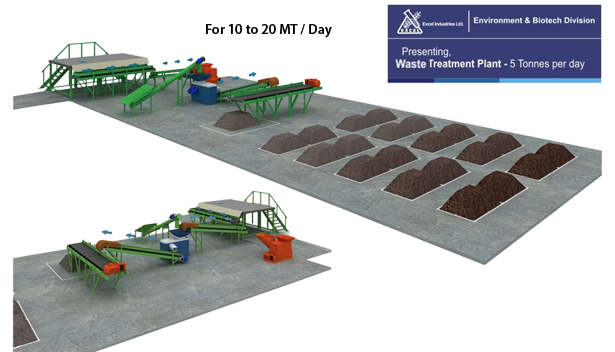 Advanced Aerobic Composting Units
Thumburmuzhy Model Aerobic Composting Technique (TMACT) for livestock waste management (90 days) & aerobic composting unit with Pagoda roof for organic waste management are low-cost alternatives.